---
Bosch Solution 6000 IP - Taster Kit
F.01U.297.671
RRP $694.65
$662.48
SAVE $32.17 (5%)
Discontinued - Item not available.
This product is only available to persons who are industry licenced.
Bosch Solution 6000 IP - Taster Kit.
Are you using Bosch Security for your customers?
Bosch IP alarms are NBN friendly with easy setup.
We've created Bosch "Taster Kits" so you can have a taste of Bosch's latest alarm panels at amazing once-off prices. The taster kits come fully programmed and ready to go, so you can play with them, change them or even install them at a customer!
If you open a trade account with Cheap Alarm Parts, we will program your first 5 panels totally free with any kits purchased.
Grab one now, offer ends April 30th 2020.
Bosch Solution 6000 IP Alarm Kit with 2 x PIRs Including:
Bosch Solution 6000 IP Kit.

2 x Blue Line Gen II PIR Sensors

Includes OnBoard Ethernet LAN

Sirens, Power Supplies, Battery, Plug-pack & Keypad Included.

FREE 1 Month trial iFob Reporting Unlimited Plan.
Technical Overview:
16 On-board Zones (Wired or wireless).
1000 Users.
Partionable to 8 Areas.
Flexible Reporting Options.
Fully Menu Text Programmable from the keypad or Programmable via SolutionlinkTM Software (Remote/Direct).
Expandable to:
144 zones (Hardwired or wireless).
1000 Users.
GSM 3G reporting options
Wifi Keypad Compatible
Ethernet IP Module
16 Keypads, proximity readers or bio-metric scanners.
Smartphone Apps
All images and text are copyright Cheap Alarm Parts.
An Innovation In Security:
The Solution 6000 Access and Intrusion alarm panel offers an extensive feature list including integrated access control, numerous wire free options, high speed windows programming software available and the simplest user / installer interface on the market today.
A solution where the important features include:
16 zones out of the box, expandable to 144 with additional modules.
Access control for 16 doors or LAN smart card readers.
Up to 1000 users.
Full text menu display for programming & user control.
Optional Proximity, biometric and external readers, with external keypad options.
Supported communication formats include Conettix IP, GSM, SMS, Email, CID, GPRS, CSV IP, SIA 3+ Text and Voice.
SMS over a standard phone line to any mobile network. Optional GSM module with SIM card.
Expandable up to 37 outputs available with one on-board dedicated relay programmed for roller doors.
Graphic User Interface:
The Graphic User Interface incorporates a text driven menu. Colour coded, illuminated keys allow for easy identification and operation in all ambient light conditions and provide a positive feel to the user. Red and green indicators provide easy identification of armed and disarmed modes and the in-built sounder provides audible feedback via polyphonic like signalling tones during system operation.
16 On-board Zones (expandable to 144 wired or wireless):
The Solution 6000 can be expanded up to 144 wired or wireless zones using zone expanders and / or serial radio receivers. Zone programming determines the panel's response to open / short and tamper conditions on the zone loop. Zones may be programmed individually to monitor all types of security alarms, fire alarms and supervision devices.
Integrated Access Control:
Access control is no longer reserved only for larger more expensive systems. Proximity technology from Bosch provides an affordable and effective solution for up to 16 access doors. The new LAN readers include egress and lock control built in, which reduces cost and simplifies installation.
1000 Users with flexible credentials and devices:
Up to 1000 individual users may be included in the system. Each user can be given a unique PIN code, RF key fob, Proximity token, and fingerprint credential if required. The Solution 6000 supports variable length PIN codes up to 8 digits.
What's in the box?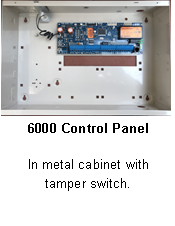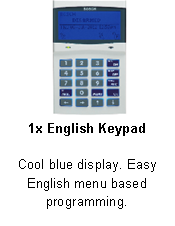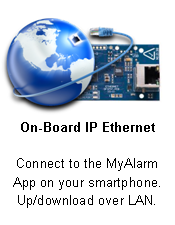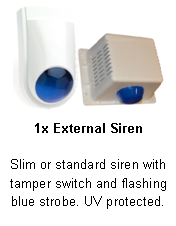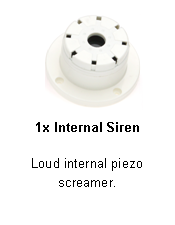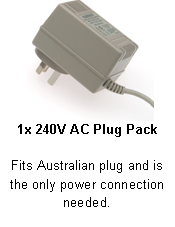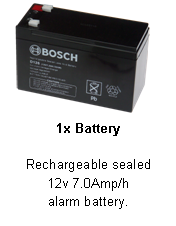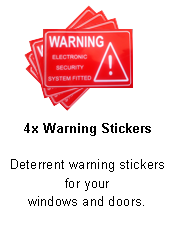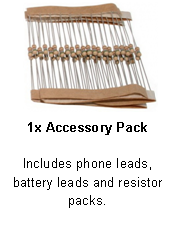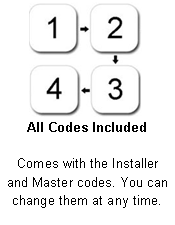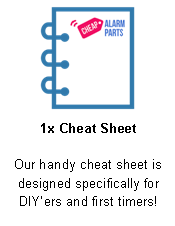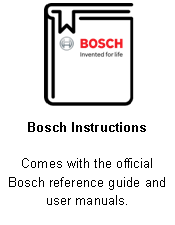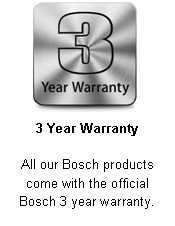 Built in Communication: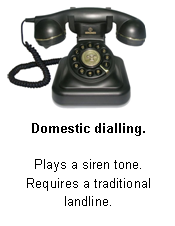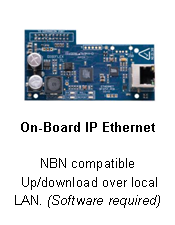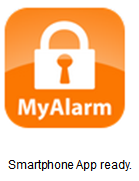 Downloadable Apps: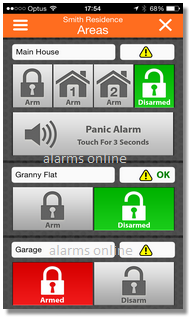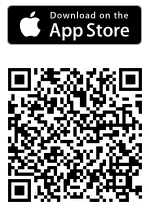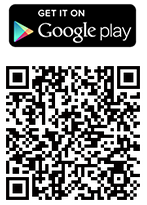 Kit Includes all this:
1x Solution 6000 control panel
1x Metal box for control panel
1x Solution 6000 Printed Quick Start Guide
1x Solution 6000 Printed User Guide
1x Update and release notes
1x Standard 610 telephone cable with adaptor
1x Battery leads Set
1x Tamper switch and bracket
10x 3k3 resistors
10x 6k8 resistors
1x LCD English Graphics Keypad.
2 x Blue Line Gen II PIR Sensors.
Includes OnBoard Ethernet LAN.
1x Siren Kit:

1x External Screamer
1x Blue flashing strobe light
1x Tamper switch
1x Internal Piezo screamer

1x Power Kit:

1x 12v 7Amp /hour Sealed Lead Acid rechargeable battery (BA006)
1x 240v/18v plug pack (Bosch or Rock)

1x Cheat Sheet:

A simplified version of the Bosch manual specifically designed for installers who are not familiar with Bosch alarm systems.
All images and text are copyright Cheap Alarm Parts.
Downloads:
All images and text are copyright Cheap Alarm Parts.
Please don't copy them and put them on your website. Seriously. It makes us cranky.
(K6000-GFX-PIR-2-IP-SP)
| | |
| --- | --- |
| SKU | K6000-GFX-PIR-2-IP-SP |
| Brand | Bosch |
| Shipping Weight | 9.0000kg |
| Shipping Width | 0.410m |
| Shipping Height | 0.270m |
| Shipping Length | 0.300m |
| Shipping Cubic | 0.033210000m3 |
| Type | discontinued |
Be The First To Review This Product!
Help other Cheap Alarm Parts users shop smarter by writing reviews for products you have purchased.
Copyright notice:
They say "Plagiarism is a compliment" but "if you lick the icing off someone else's cake, you will never be nourished."

Note that some information for this listing is taken directly from manufacturers marketing materials and their specification sheets., but anything that doesn't match manufactures exact and freely available works is copyrighted by Cheap Alarm Parts, layout, images, fonts, order, punctuation and visual presentation etc

If we find our original works on a competitors website, we will enforce our copyright and pursue an 'account of profits' to the full force of the law (ie, you might need to pay us some royalties). Nasty I know - but dude - It's sad we actually even need to write this!