---
Bosch Solution 3000-GSM + 2 Wireless Tri-Techs + Icon Keypad
F.01U.305.637
WAS $1,133.84
NOW $1,077.15
Sale Ends in
23:59 pm, 30 January 2022
Sold Out - Backorder Available
Limited Stock, Please call 1300 40 1800 for stock availability.
Bosch Solution 3000-GSM + 2 Wireless Tri-Techs + Icon Keypad
Bosch Solution 3000-GSM + 2 Wireless PIRs + Icon Keypad Including:
Solution 3000 PCB.

Qty 1 x Icon Keypad.

Qty 2 x Blue Line Gen2 Wireless Tri-Tech Sensors (Pet Proof).

Qty 1 x Wireless Receiver (B810).

Qty 2 x 4 Button Remotes (RFKF-FBS).

Qty 1 x B443 3G/4G GSM Module.

Qty 1 x B450-M Interface.

Sirens, Power Supplies, Battery, Plug-pack and Metal Box Included.

FREE App Remote Security Control Plus (RSC+).
Quick Kit Overview:
Comes with 2 x Wireless Sensors.
Includes indoor and outdoor sirens.
Includes Radio Wireless Receiver.
Comes with 4 button genuine Bosch remote controls.
Available from Cheap Alarm Parts.
Includes GSM Module with Interface.
Includes Keypad.
Includes power supply and battery.
Comes with instructions, manuals and cheat sheets.
Comes with all codes (you change them).
Includes resistors, phone leads, tamper switches and lots more.
You will need to purchase cable if your premises is not pre-wired.
Technical Overview:
8/16 Fully Programmable Zones
41 codes - 1 Installer, 20 User Codes (up to 32 on Solution 3000).
16 Wireless Devices (on Solution 3000).
Partitionable in to 2 Separate Areas.
STAY / AWAY Arming Options.
Entry and Exit Warning.
Selectable Reports per User Code.
Automatic Arming.
Remote Arming.
Zone Lockout.
256 Event History Memory.
LCD Icon, LCD Alphanumeric, and Touchscreen Support.
4 Programmable Outputs.
Dynamic Battery Test.
Day Alarm.
Walk Test Mode.
Back to Base Reporting.
Domestic Reporting.
Dual Entry Timers.
AC Fail Supervision.
Phone Line Supervision.
All images and text are copyright Cheap Alarm Parts.

B443 3G/4G GSM Module with B450-M Interface:
The B443 provides 3G/4G IP communication over a GSM/GPRS/EDGE/UMTS/HSPA+ cellular network by plugging into a B Series control panel or B450 Conettix Plug-in Communicator Interface.
Typical applications are:
• Alarm reporting to a central station
• Remote control panel programming through Remote Programming Software
• Remote monitoring and control through a mobile application
The B443 is built for a wide variety of secure commercial and industrial applications. Flexible endto- end path supervision, 128-bit to 256-bit AES encryption, and anti-substitution features make B443 desirable for high security and fire monitoring applications.

The B450 supports Conettix IP protocol with full authentication, 256 bit AES encryption and resistance to Denial of Service attacks. It is a reliable way to add cellular network communications to existing or new commercial security and fire installations.
All images and text are copyright Cheap Alarm Parts.
What's in the box?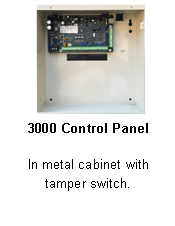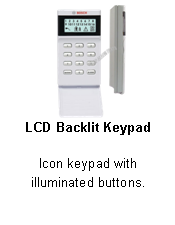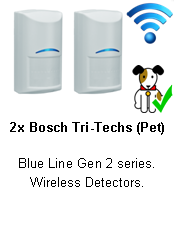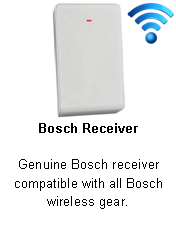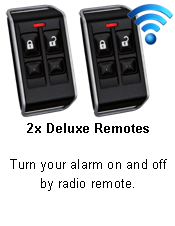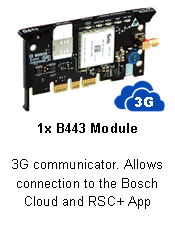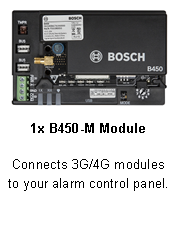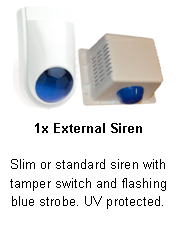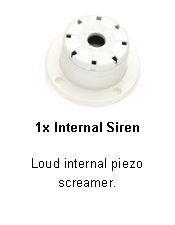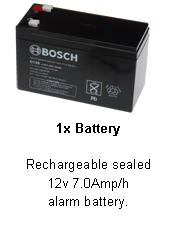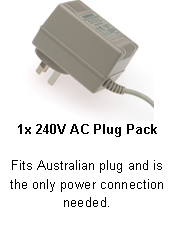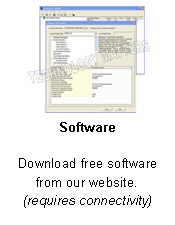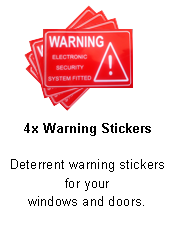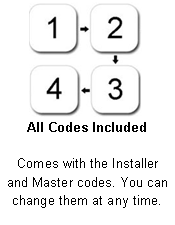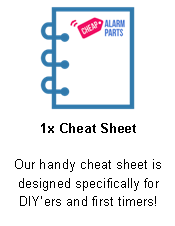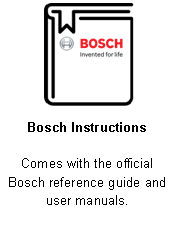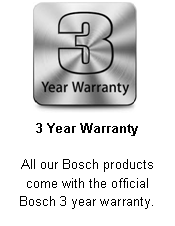 Built in Communication: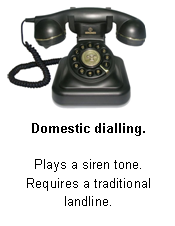 Downloadable Apps: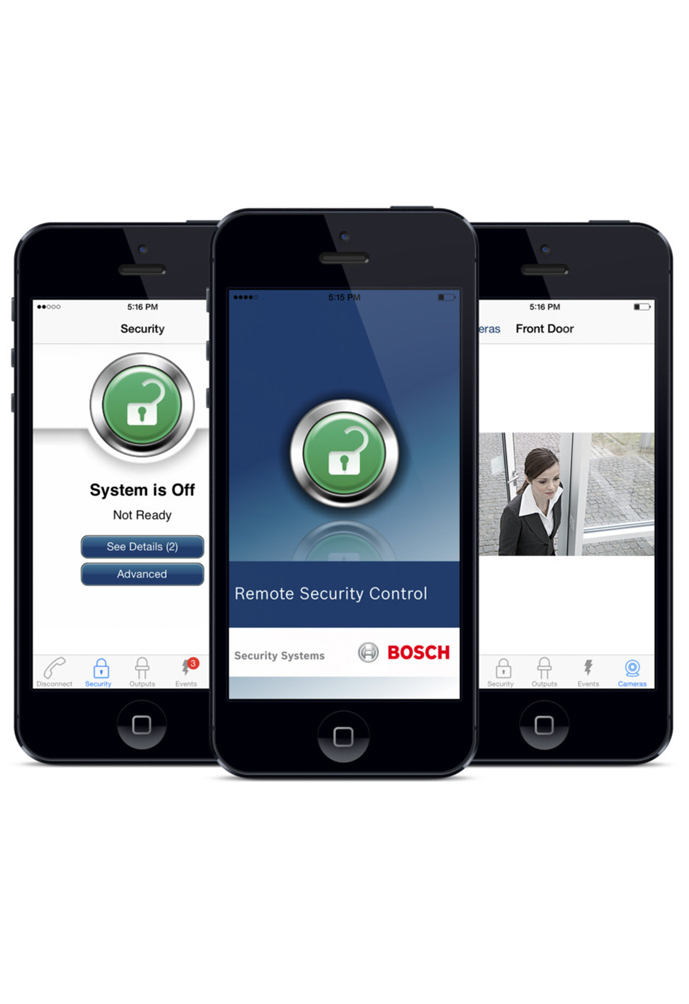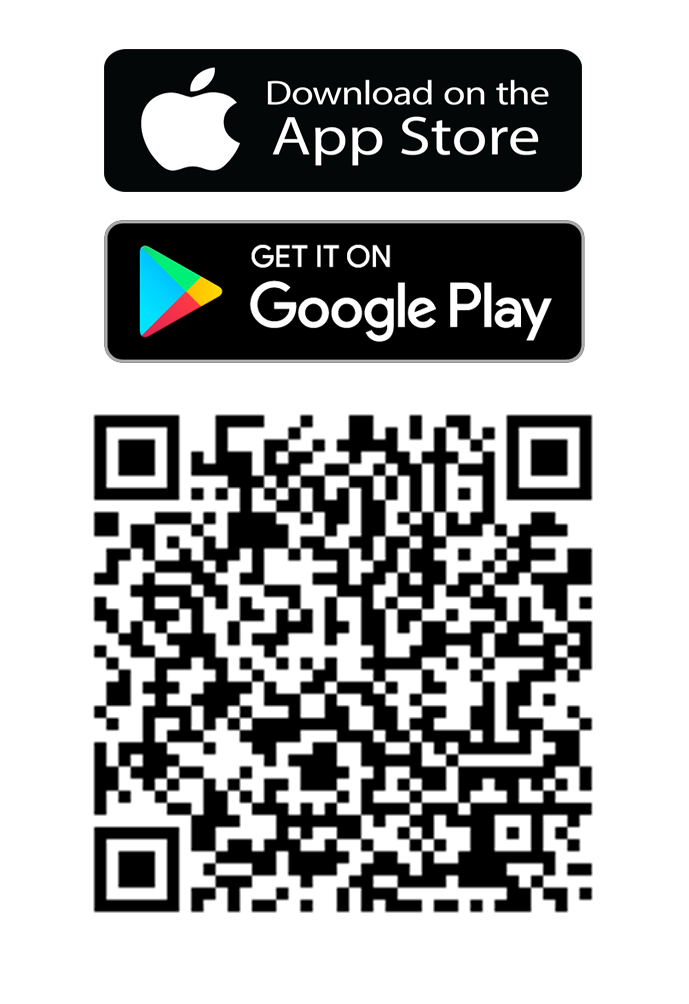 Kit Includes all this:
1 x Solution 3000 control panel (ICP-SOL3-P)
1 x Metal box for control panel
1 x Solution 3000 Printed Quick Start Guide
1 x Solution 3000 Printed User Guide
1x Update and release notes
1 x Standard 610 telephone cable with adaptor
1 x Battery leads Set
1 x Tamper switch and bracket
10 x 3k3 resistors
10 x 6k8 resistors
1 x Icon Keypad.
2 x Blue Line Gen2 Wireless Tri-Tech Sensors.
1 x Wireless Receiver.
2 x 4 Button Remotes.
B443 3G/4G GSM Module.
B450-M Interface.
1 x Siren Kit:

1x External Screamer
1x Blue flashing strobe light
1x Tamper switch
1x Internal Piezo screamer

(Choice of Slimline or Full size)

1 x Power Kit:

1x 12v 7Amp /hour Sealed Lead Acid rechargeable battery (BA006)
1x 240v/18v plug pack (Bosch or Rock)

1 x Cheat Sheet:

Alarms-Online cheat sheet

(only available from Alarms-Online)

A simplified version of the Bosch manual specifically designed for installers who are not familiar with Bosch alarm systems.

Makes installing a breeze.
Downloads:
All images and text are copyright Cheap Alarm Parts.
Please don't copy them and put them on your website. Seriously. It makes us cranky.
This product requires a 3G GSM signal. Although Telstra and Vodafone have already started phasing out parts of their 3G networks for older devices, at this stage, no one has confirmed any specifics around when 3G will be switched off entirely. Telstra will continue to operate 3G services on its 850MHz spectrum until June 2024. Optus has yet to provide any timeline for when it intends to shutdown its 3G network. Unlike Telstra and Vodafone, it isn't currently phasing out any of its 3G network frequencies. Once the 3G network is turned off entirely, the communicator in this product will need to be upgraded to 4G. As of July 2020, when this paragraph was written, there were no 4G units available for the product, but they are in development and will be available once testing has been completed by the manufactures.
(S3K-LCD-WTR-2-GSM)
| | |
| --- | --- |
| SKU | S3K-LCD-WTR-2-GSM |
| Brand | Bosch |
| Shipping Weight | 9.0000kg |
| Shipping Width | 0.300m |
| Shipping Height | 0.270m |
| Shipping Length | 0.410m |
Be The First To Review This Product!
Help other Cheap Alarm Parts users shop smarter by writing reviews for products you have purchased.