---
Bosch 3000 Radion Wireless Upgrade Kit - 3x Stainless Remotes
3 x Premium Stainless Remotes (HCT4UL-FOB)
This product is only available for pre-order or back order.
This kit is an add-on to the Solution 3000 panel and adds wireless capabilities. Includes 3 remotes and Bosch B810 receiver.
Bosch 3000 Radion Wireless Upgrade Kit - 3 x Premium Stainless Remotes
Quick Overview:
Remotes:

Water and dust resistant
Arm, disarm and panic functions
Assigned by user for accurate reporting of open close signals
LED indicator
Programmable aux buttons (depending on panel type)
Sliding protective stops buttons from being accidently pressed
Compact and sturdy design

B810 Receiver:

Dual internal antennas provide spatial and polar RF signal reception for high reliability
Cover and wall tamper protection
Multiple device enrollment options as well as RF diagnostics ensure efficient and effective installation
Supports supervision of wireless points (504), keyfobs (1000), and repeaters (8)
External status LEDs
Available from Cheap Alarm Parts
Detection and reporting of radio frequency interference
139.70 mm x 209.60 mm x 31.80 mm(5.50 in x 8.25 in x 1.25 in)
Powered from the alarm
The Blurb:
This kit upgrades the Solution 3000 panel and adds wireless capabilities. It is compatible with all of the Bosch wireless sensors. The kit comes with three 4 button remote controls, a genuine Bosch Radion B810 SD12 receiver and 2m of security cabling for connection. The receiver connects to the keypad BUS on the Solution 3000 and the panel needs to be programmed so it knows there is a receiver present. You will also need the mastercode to program in the new remotes.
What's in the box?
1Qty x Bosch B810 SD12 Bus receiver
3Qty x HCT-4UL 4 button stainless steel remote control keyfobs
1Qty x 2m Security 4 core cabling for connection
Compatibility:
How to wire: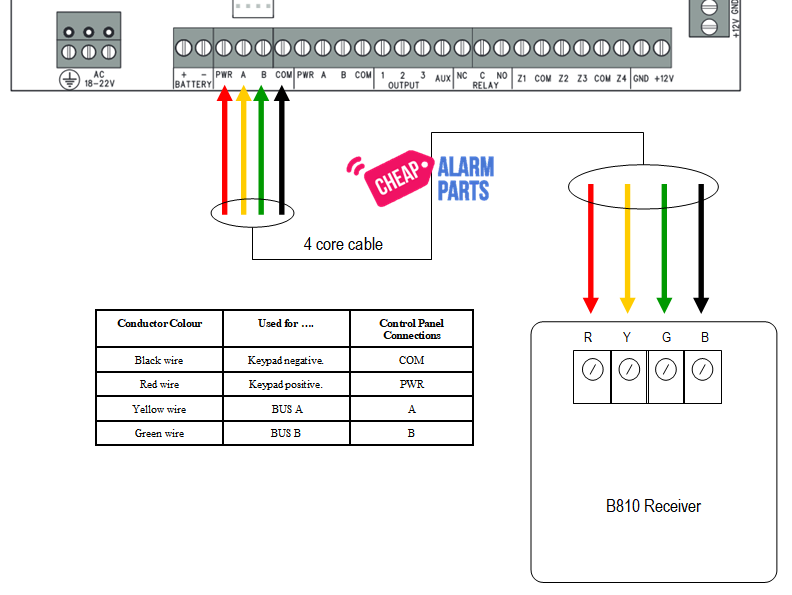 How to program the B810 Receiver:
The Solution 3000 needs to be told it has a receiver connected.
You may need to reboot the system after you have programmed in the new receiver.
Programming in the B810 with an icon series keypad:

Programming in the B810 with a text or touch screen series keypad:
How to program new remotes:
Programing remotes with a icon series keypad:
Program the new module as follows, if you already have existing key-fobs, make sure you don't program these new fobs into existing user numbers, otherwise your old fobs will not work. You can use memory locations 9 -15 for keyfobs. If you are not sure, it's best to add the new remote's to User 11 or User 12.

Programming remotes with a text or touch screen series keypad: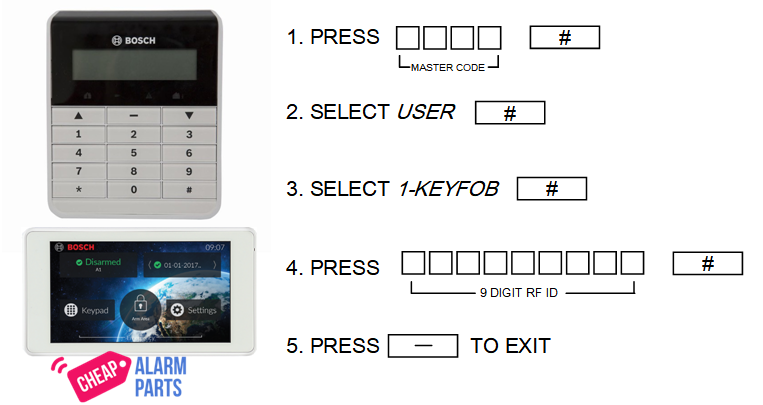 All images and text are copyright Cheap Alarm Parts.
Please don't copy them and put them on your website. Seriously. It makes us cranky.
(B810-PRE-KIT-1)
| | |
| --- | --- |
| SKU | B810-PRE-KIT-1 |
| Brand | Bosch |
| Shipping Weight | 1.0000kg |
| Shipping Width | 0.160m |
| Shipping Height | 0.110m |
| Shipping Length | 0.270m |
Be The First To Review This Product!
Help other Cheap Alarm Parts users shop smarter by writing reviews for products you have purchased.
Copyright notice:
They say "Plagiarism is a compliment" but "if you lick the icing off someone else's cake, you will never be nourished."

Note that some information for this listing is taken directly from manufacturers marketing materials and their specification sheets., but anything that doesn't match manufactures exact and freely available works is copyrighted by Cheap Alarm Parts, layout, images, fonts, order, punctuation and visual presentation etc

If we find our original works on a competitors website, we will enforce our copyright and pursue an 'account of profits' to the full force of the law (ie, you might need to pay us some royalties). Nasty I know - but dude - It's sad we actually even need to write this!
Others Also Bought
More From This Category