---
Bosch 6000 + Smart + Upgrade Ethernet Kit
S6KD-SMART-UP-LAN
Bosch Solution 6000 IP Smart Upgrade Kit
Solution 6000 IP Smart Upgrade Kit including:
The Solution 6000 Access and Intrusion alarm panel offers an extensive feature list including integrated access control, numerous wire-free options, high-speed windows programming software available and the simplest user/installer interface on the market today.
Features of this kit: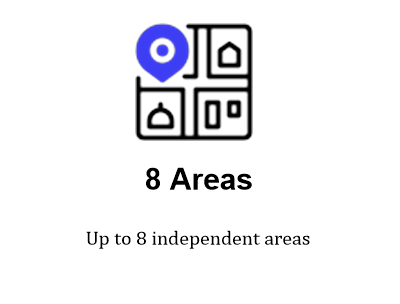 The Kit
Our kits come with everything you need to get the system running, except for screws and cable. We have an extensive range of cabling, but we do recommend 14/020 Security cabling for everything in the installation. Don't use Cat5 or Cat6 cable - it makes us sad - and causes false alarms.

This is what you get in the kit:
*including a free brown box with "Cheap Alarm Parts" on the side: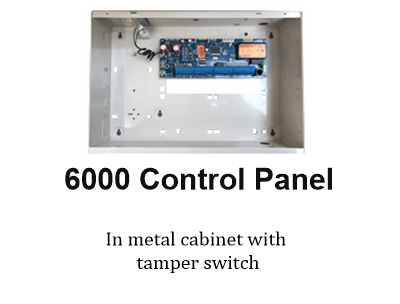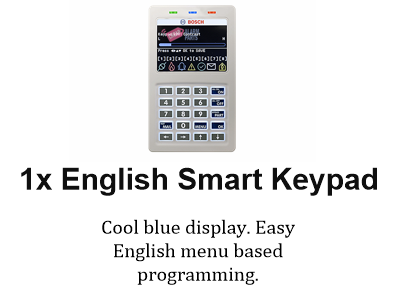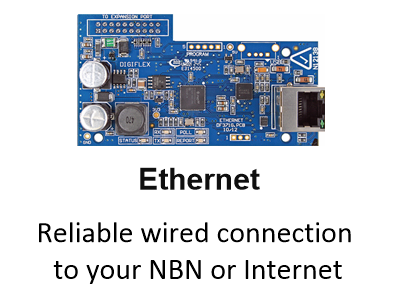 Easy Installation
We give you all the information you need to install a new or upgrade from another alarm panel. Our tech support will help you out for free along the way. Each system comes with a default pin number and installer codes - you can change them to anything you want. You have access to everything in the panel.



Room To Grow
The Solution 6000 Access and Intrusion alarm panel is highly expandable and adaptable. Add modules like proximity card readers, and fully supervised LAN power supplies. Expander board for additional buildings, lift control, and lots more.



Control in Your Pocket
With an iFob subscription or Pay Once plan you can control your alarm system from your pocket (aka Smart Phone)!
This includes turning it on and off, looking at history, and unlocking doors.
Depending on your plan, you can also receive SMS, Push, voice, and email notifications directly to your phone.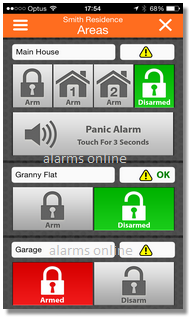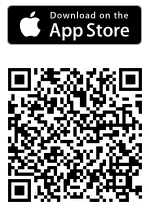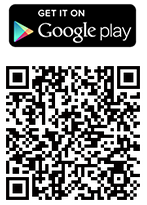 What Makes Us Special:
We all like to feel a bit special.
Here is what separates us from other online sellers:




The Juicy Bits
For people who love to read the juicy bits.
Important Note:
This upgrade kit requires an 18v 1.3Amp plug pack TF008-B. Check if your old alarm has the correct plug pack. Don't use existing 17v or 16v plug packs.
Quick Kit Overview:
Available from Cheap Alarm Parts.
Includes OnBoard Ethernet LAN.
Includes Keypad.
Comes with instructions, manuals, and cheat sheets.
Cheap alarm Parts.
Comes with all codes (you change them).
Includes resistors, phone leads, tamper switches, and lots more.
You will need to purchase cable if your premises is not pre-wired.
Technical Overview:
16 On-board Zones (Wired or wireless).
1000 Users.
Partionable to 8 Areas.
Flexible Reporting Options.
Fully Menu Text Programmable from the keypad or Programmable via SolutionlinkTM Software (Remote/Direct).
Kit Includes all this:
1x Solution 6000 control panel
1x Metal box for control panel
1x Solution 6000 Printed Quick Start Guide
1x Solution 6000 Printed User Guide
1x Update and release notes
1x Standard 610 telephone cable with adaptor
1x Battery leads Set
1x Tamper switch and bracket
10x 3k3 resistors
10x 6k8 resistors
1x Bosch Graphics Keypad for Solution 6000 with Smartcard Reader

(Choice of Black or White)

(Default White).
Includes OnBoard Ethernet LAN.
1x Cheat Sheet:

Alarms-Online cheat sheet

(only available from Alarms-Online)

A simplified version of the Bosch manual specifically designed for installers who are not familiar with Bosch alarm systems.

Makes installing a breeze.
For the Avid Researcher:
My wife did not find this bit exciting, but I'm sure you will.
An Innovation In Security:
The Solution 6000 Access and Intrusion alarm panel offers an extensive feature list including integrated access control, numerous wire free options, high speed windows programming software available and the simplest user / installer interface on the market today.
A solution where the important features include:
16 zones out of the box, expandable to 144 with additional modules.
Access control for 16 doors or LAN smart card readers.
Up to 1000 users.
Full text menu display for programming & user control.
Optional Proximity, biometric and external readers, with external keypad options.
Supported communication formats include Conettix IP, GSM, SMS, Email, CID, GPRS, CSV IP, SIA 3+ Text and Voice.
SMS over a standard phone line to any mobile network. Optional GSM module with SIM card.
Expandable up to 37 outputs available with one on-board dedicated relay programmed for roller doors.
Graphic User Interface:
The Graphic User Interface incorporates a text driven menu. Colour coded, illuminated keys allow for easy identification and operation in all ambient light conditions and provide a positive feel to the user. Red and green indicators provide easy identification of armed and disarmed modes and the in-built sounder provides audible feedback via polyphonic like signalling tones during system operation.
16 On-board Zones (expandable to 144 wired or wireless):
The Solution 6000 can be expanded up to 144 wired or wireless zones using zone expanders and / or serial radio receivers. Zone programming determines the panel's response to open / short and tamper conditions on the zone loop. Zones may be programmed individually to monitor all types of security alarms, fire alarms and supervision devices.
Integrated Access Control:
Access control is no longer reserved only for larger more expensive systems. Proximity technology from Bosch provides an affordable and effective solution for up to 16 access doors. The new LAN readers include egress and lock control built in, which reduces cost and simplifies installation.
1000 Users with flexible credentials and devices:
Up to 1000 individual users may be included in the system. Each user can be given a unique PIN code, RF key fob, Proximity token, and fingerprint credential if required. The Solution 6000 supports variable length PIN codes up to 8 digits.
More Information on the Solution 6000:
The Solution 6000 Integrated Access Control & Alarm System offers an extensive feature listing including integrated proximity, numerous wire free options, high speed windows programming software and the simplest user - installer interface on the market today.
You have a responsibility to your staff and your business to protect them. Should a burglary or other incident occur, the loss is not just the items destroyed or stolen - it's the loss of comfort and security that your workplace once provided. The Solution 6000 from Bosch Security Systems provides you with an expandable solution that can be tailored to fit your business perfectly. This integrated access control and alarm system combines an impressive array of alarm functionality with the access control capabilities you've always needed. With future focused technology and the ability to adapt to your changing needs and work environment, Bosch have eliminated the complexities of finding the right security solution for your business. Look no further than the Solution 6000 to unlock the access and alarm solution that your business has been looking for.
Expandable to suit your business needs
Every business is different, and the Solution 6000 can adapt to any requirements. It is capable of providing simple cost effective solutions for mid-sized businesses, yet is powerful enough to handle 144 zones (detention devices), and even up to 16 access doors when fully expeanded for large applications.
The Solution 6000 has the ability to cater for up to 1000 users, providing a perfect fit for most business users. With programmable authority levels, you determine which functions each staff member can perform: simple operations such as turning the system on and off, or accessing restricted areas. Customised security has never been so simple.
If a user is enabled for door access, presenting a token or access card to an internal or external proximity reader will provide entry, which can be monitored and reported by the system. Your child ca have their own code which triggers an SMS to your mobile when they come home from school.
Integrated Access Control
Access Control is no longer reserved only for larger more expensive systems. The Solution 6000 incorporates proximity technology from Bosch, providing an affordable and effective solution for integrated access control for up to 16 access doors or proximity readers - ideal for mid-sized commercial installations. Talk to Cheap Alarm Parts for more information on Access Control. Compatible proximity readers incorporate entry/exit and lock control built-in, which reduces cost and simplifies installation.
Bosch provides you with a choice of access control user interfaces including internal or weatherproof external proximity readers, keypads with built-in proximity readers, or for a higher security option, biometric fingerprint readers.
Access Control Features
Comprehensive access control features including Holidays, Date / Time and Day of the Week Schedules allow you to easily manage your employee access and the arm/disarm functions of the security system. Up to 16 time zones can be set up, with each containing up to 4 time periods. Time zones can be used to automatically arm/disarm your security system at specific times, like automatically locking a reception door at 5pm, as well as controlling user access to doors such as the warehouse after 4pm, or to automatically control outputs, like gates that close automatically at 5.30pm.
Multiple Arming Options
The versatility of the Solution 6000 is captured in its ability to provide the right arming option for any business. Up to 1000 individual system users have the choice of arming and disarming using a unique PIN code (up to 8 digits long), a wireless remote, proximity card or token, biometric fingerprint or by using the Auto Arm function. The flexibility of the Auto Arm Function enables you to program your system to automatically arm at pre-defined times. Programmed schedules can also extend to control the locking of gates or turning building lights on and off, providing a complete business solution.
Proximity tokens and cards are programmed with the user's access rights and can be presented to any reader to arm/disarm or enter a door.
Simple to use, with plenty of flexibility.
Simple Operation
The standard Bosch keypad features a graphical user interface that incorporates a text-driven menu system. Colour coded, illuminated keys make it easy to operate your security system, day or night. Red and green indicators provide easy identification of Armed and Disarmed modes, and the built-in sounder provides audible feedback when operating the system.
An enhanced version of the Graphic Keypad incorporates a built-in proximity reader, allowing users to simply present their token to the keypad to arm/disarm and or unlock a door in one simple action.
Where required for external applications, like warehouse entry or main entrances, stainless steel weatherproof keypads are also available in slimline or standard fit, designed to complement any building facade.
Easy Remote Arming
The Solution 6000 can be programmed to use a wireless remote that easily fits onto your keyring. These small remote controls allow you to arm and disarm your business premises by simply pressing one button. The wireless remote can also be used to set the system in STAY mode, act as a portable panic button, and can even be used to switch lights and open factory gates & doors.
Flexibility
Solution 6000 can be programmed to manage 6000 zones that can be divided into 8 separately controlled areas. The 6000 fully programmable intrusion zones can support sensors fitted to doors and windows, motion sensors and smoke detectors. When events are detected, the Solution 6000 can sound sirens, transmit events to your monitoring service provider and activate lights, providing security you can rely on 24 hours a day.
Your Solution 6000 can store up to 1000 events ie. arm/ disarm functions and door access reports for each user, which can be viewed from the keypad by the master user. This way you can monitor the movements of your staff daily if required.
With 5 on-board outputs (expandable to 37), and one already preprogrammed for a roller shutter or garage door, your Solution 6000 can cater for all your building automation requirements, including lighting, air conditioning, irrigation - just about anything that is controlled via a switch and can be programmed.
A wireless remote allows you to arm / disarm the building, and, if programmed, can be used as a panic button or building automation switch.
Reliable protection need not cost a fortune!
Protecting Your Assets
The Solution 6000 provides the flexibility to divide your alarm system into a number of separately controllable areas including a common area (this can be a reception area, hallway, or underground carpark). It provides the flexibility for your staff to arm and disarm the areas that they have been given access to, without affecting other areas of your business. For your convenience the Solution 6000 can be configured to use a single key pad for all areas, or individual key pads for each area.
Cost Effective Technology
State-of-the-art security technology has previously been unattainable for some due to prohibitive costs. Now, the Solution 6000 eliminates this obstacle, thanks to its unrivalled price / performance ratio. The benefits begin with the installation stage itself, which is straightforward, inexpensive and, if you wish, wireless. Complex security installations are now a thing of the past.
High Speed, High Security
The security system communicates with other system modules via the built-in high speed connection (RS485 LAN), and for increased security, uses high level encryption. In this way, devices can be placed up to 1.2km from the control panel itself, making the system extremely flexible when dealing with large buildings or multiple buildings, like separate warehouses.
The GSM/GPRS and Ethernet options provide a high security communications path backup to phone line reporting, or can be used as the primary reporting path where VOIP or digital communications are used in the building.
24 Hour Protection
The Solution 6000's chime mode allows you to audibly monitor a zone or group of zones, such as business entry doors for customer entry during business hours or entry into storage areas while your system is disarmed. The chime mode feature is extremely useful for monitoring driveways and fire doors too. This fully automatic self testing unit allows you to forget the system is there, while knowing you are still protected.
Versatility
The Solution 6000 offers you a wide choice of features and options, which coupled with the vast range of accessories available from Bosch Security Systems, ensures a system can be designed to suit your specific needs. Whether your office space is large or small, Bosch Security has a solution for you.
Downloads:
(S6KD-SMART-UP-LAN)
| | |
| --- | --- |
| SKU | S6KD-SMART-UP-LAN |
| Brand | Bosch |
| Shipping Weight | 5.0000kg |
| Shipping Width | 0.410m |
| Shipping Height | 0.270m |
| Shipping Length | 0.300m |
| Shipping Cubic | 0.033210000m3 |
Be The First To Review This Product!
Help other Cheap Alarm Parts users shop smarter by writing reviews for products you have purchased.
Copyright notice:
They say "Plagiarism is a compliment" but "if you lick the icing off someone else's cake, you will never be nourished."

Note that some information for this listing is taken directly from manufacturers marketing materials and their specification sheets., but anything that doesn't match manufactures exact and freely available works is copyrighted by Cheap Alarm Parts, layout, images, fonts, order, punctuation and visual presentation etc

If we find our original works on a competitors website, we will enforce our copyright and pursue an 'account of profits' to the full force of the law (ie, you might need to pay us some royalties). Nasty I know - but dude - It's sad we actually even need to write this!