---
Bosch Professional Series TriTech - 18 m x 24m, Dual Motion Detector, 10525 GH
F.01U.025.758
Professional Series TriTech
Quick Overview:
18 m x 25 m (60 ft x 80 ft) coverage, field selectable to 8 m x 10 m (25 ft x 33 ft).
Sensor data fusion technology,
Available from Cheap Alarm Parts.
Tri-focus optics technology,
Range adaptive radar.
Microwave anti-mask,
The Blurb:
The ISC-PDL1-W18x Professional Series TriTech Detectors are exceptionally suited for commercial indoor applications. Sensor data fusion technology ensures that the detectors send alarm conditions based on precise information. Tri-focus optics eliminate coverage gaps and respond efficiently to intruders. The powerful combination of unique features in the Professional Series delivers superior catch performance and virtually eliminates false alarms.
The self-locking two-piece enclosure, built-in bubble level, flexible mounting height, and three optional mounting brackets simplify installation and reduce service time.
All images and text are copyright Cheap Alarm Parts.
Specifications:
Microwave Anti-mask
Supervised Microwave and PIR
Active White Light Suppression
Field Selectable Coverage (18 m x 25 m or 8 m x 10 m)
Dynamic Temperature Compensation
Cover and Wall Tamper Switch
Self-adjusting LED
Remote Walk Test LED
Alarm Memory
Solid State Relays
Draft, Insect, and Small Animal Immunity
Remote Self Test
Input Power Supervision
Trouble Memory
Cloak and Camouflage Detection Technology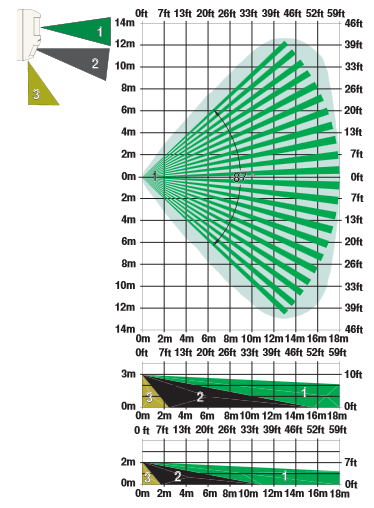 Specifications:
| | |
| --- | --- |
| Voltage: | 9 VDC to 15 VDC |
| Current (Maximum): | < 25 mA |
| Current (Standby): | 13 mA |
| Relay: | Solid state relay, normally-closed (NC) contacts power supervised. 3 W, 125 mA, 25 VDC, resistance < 10 Ω. |
| Tamper: | Normally-closed (NC) contacts (with cover on) rated at 25 VDC, 125 mA maximum. Connect tamper circuit to 24-hour protection circuit. |
| Trouble: | Solid‑state relay normally-closed (NC) contacts. |
| Dimensions: | 136 mm x 69 mm x 58 mm (5.25 in. x 2.75 in. x 2.25 in.) |
| Radio Frequency Interference (RFI) immunity: | No alarm or setup on critical frequencies in the range from 26 MHz to 1 GHz at 50 V/m |
| Relative Humidity: | 0 to 95%, non-condensing |
| Temperature: | -29°C to +55°C (-20°F to +130°F) For UL Certificated installations, 0°C to +49°C (+32°F to +120°F) |
| Protection Rating: | IP41, IK04 (EN 60529, EN 50102) |
All images and text are copyright Cheap Alarm Parts.
Please don't copy them and put them on your website. Seriously. It makes us cranky.
(ISC-PDL1-W18G)
| | |
| --- | --- |
| SKU | ISC-PDL1-W18G |
| Brand | Bosch |
| Shipping Weight | 0.3320kg |
| Shipping Width | 0.120m |
| Shipping Height | 0.070m |
| Shipping Length | 0.240m |
| Shipping Cubic | 0.009600000m3 |
Be The First To Review This Product!
Help other Cheap Alarm Parts users shop smarter by writing reviews for products you have purchased.
Copyright notice:
They say "Plagiarism is a compliment" but "if you lick the icing off someone else's cake, you will never be nourished."

Note that some information for this listing is taken directly from manufacturers marketing materials and their specification sheets., but anything that doesn't match manufactures exact and freely available works is copyrighted by Cheap Alarm Parts, layout, images, fonts, order, punctuation and visual presentation etc

If we find our original works on a competitors website, we will enforce our copyright and pursue an 'account of profits' to the full force of the law (ie, you might need to pay us some royalties). Nasty I know - but dude - It's sad we actually even need to write this!
Others Also Bought
More From This Category