---
Bosch B443 - PLUG-IN 3G GPRS COMMUNCIATOR for 2000/3000
F.01U.323.796
Sold Out - Backorder Available
This unit allows connection of mobile 3G/4G modules to your compatible alarm panel. This modules simply slides into the B450-M unit.
B443 Conettix Plug-in HSPA+ Cellular Communicator for 2000/3000 and RSC+
Quick Overview:
Enables full two-way IP communication over 3G.
Remote programming and monitoring of compatible Bosch control panels.
Compatible with new and most deployed Bosch control panels.
Configured directly from Bosch Remote Programming Software.
Allows connection to Bosch Cloud and RSC+ App.
Available from Cheap Alarm Parts.
The Blurb:
This unit allows connection of mobile 3G/4G modules to your compatible alarm panel. This modules simply slides into the B450-M unit.
The B443 provides 3G/4G IP communication over a GSM/GPRS/EDGE/UMTS/HSPA+ cellular network by plugging into a B Series control panel or B450 Conettix Plug-in Communicator Interface.
Typical applications are:
Alarm reporting to a central station.
Remote control panel programming through Remote Programming Software.
Remote monitoring and control through a mobile application.
Personal notification using SMS.
The B443 is built for a wide variety of secure commercial and industrial applications. Flexible endto- end path supervision, 128-bit to 256-bit AES encryption, and anti-substitution features make B443 desirable for high security and fire monitoring applications.
Kit Includes: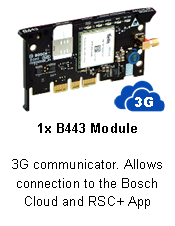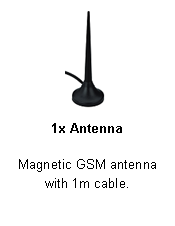 Compatibility:
Solution 2000
Solution 3000
Specifications:
| | |
| --- | --- |
| Current: | Standby: 35 mA / Alarm: 150 mA |
| Voltage: | 12 VDC nominal |
| Temperature: | -10°C to +55°C (+14°F to +131°F) |
| Dimensions: | 50 mm x 93.5 mm x 15.25 mm (2 in x 3.68 in x 0.60 in) |
| Antenna (included): | Magnetic base omni-directional / 2.5 m (8.2 ft) cable with SMA connector |
| SIM card: | Requires a full size SIM card |
Important:
This unit requires the B450-M Communication Interface.
All images and text are copyright Cheap Alarm Parts.
Please don't copy them and put them on your website. Seriously. It makes us cranky.
This product requires a 3G GSM signal. Although Telstra and Vodafone have already started phasing out parts of their 3G networks for older devices, at this stage, no one has confirmed any specifics around when 3G will be switched off entirely. Telstra will continue to operate 3G services on its 850MHz spectrum until June 2024. Optus has yet to provide any timeline for when it intends to shutdown its 3G network. Unlike Telstra and Vodafone, it isn't currently phasing out any of its 3G network frequencies. Once the 3G network is turned off entirely, the communicator in this product will need to be upgraded to 4G. As of July 2020, when this paragraph was written, there were no 4G units available for the product, but they are in development and will be available once testing has been completed by the manufactures.
(B443)
| | |
| --- | --- |
| SKU | B443 |
| Barcode # | 800549824262 |
| Brand | Bosch |
| Shipping Weight | 0.2500kg |
| Shipping Width | 0.100m |
| Shipping Height | 0.600m |
| Shipping Length | 0.190m |
| Type | ONHOLD |
Be The First To Review This Product!
Help other Cheap Alarm Parts users shop smarter by writing reviews for products you have purchased.
Copyright notice:
They say "Plagiarism is a compliment" but "if you lick the icing off someone else's cake, you will never be nourished."

Note that some information for this listing is taken directly from manufacturers marketing materials and their specification sheets., but anything that doesn't match manufactures exact and freely available works is copyrighted by Cheap Alarm Parts, layout, images, fonts, order, punctuation and visual presentation etc

If we find our original works on a competitors website, we will enforce our copyright and pursue an 'account of profits' to the full force of the law (ie, you might need to pay us some royalties). Nasty I know - but dude - It's sad we actually even need to write this!